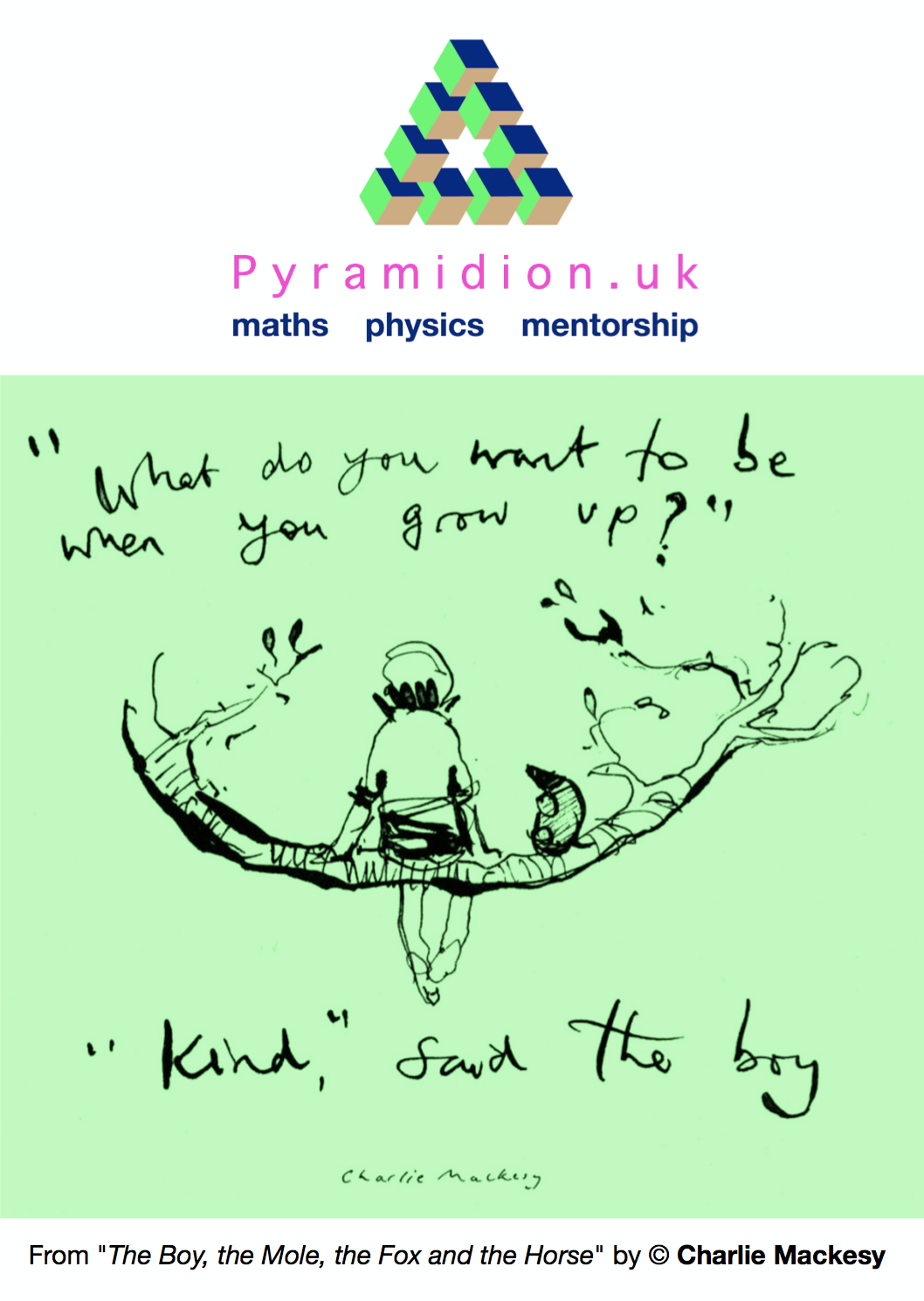 A personal website for students and parents  (not designed for small devices)
I encourage students to make the study of physics phenomena much more interesting and related to real life, than the usual contents of school lessons. For instance, the reflection and interaction of waves can be observed and described with everyday life examples, such as walking the dog by the Thames, where waves are reflected at the river's banks, that also help us to elevate our spirit by appreciating nature—and craftsmanship, in a slipper launch.
In maths, I stimulate the development of abstract reasoning in algebra, geometry, calculus, and statistics and probability, as the ability to make sense of non-language-based information, that is needed in so many aspects of life, and allows us to study, for instance, the waves that we observe in nature:

Why pyramidion                                                               
It took great ingenuity and hard teamwork to the ancient Egyptians to build pyramids and complete them by placing the uppermost stone—the pyramidion. They showed an ancient square tool they were using to estimate the maximum ramp angle to a visitor—Pythagoras—who generalised the idea in a theorem.
Given the right guidance, a fundamental question always is: how fast can students realise on their own the way ahead, and how far can they reach?
To develop problem-solving skills, I encourage students to follow four steps:
1)   analyse the problem to gain a deep understanding, immersing themselves in it,
2)   plan how to solve the problem by applying knowledge acquired in the tutorials,
3)   develop clear workings, apply formulas, substitute by data, solve equations, and
4)   arrive at the correct answer after following correctly the "thinking" steps 1 and 2,
whilst avoiding mistakes in step 3. Then check and discuss the answers.
Step 4 would be equivalent to placing the pyramidion, giving students a positive sense of accomplishment in school work and exams, and a confidence boost in their development.
How it works
At Pyramidion, online tutoring is the framework and mentorship is the foundation, so that students can learn and progress towards their goals.
As an independent tutor, I endeavour to integrate wisdom and empathy through mentorship in maths and physics tutorials, knowing that what parents want most for their children is that they are genuinely happy from learning and doing meaningful and fulfilling activities, and lead psychologically rich lives.
Tutoring with mentoring to me is about being human and making a difference in the life of another person. Maths and physics are the means I use to convey that difference. It may be from a small gesture to make an anxious pupil smile, to helping a young student see that our experience on this planet is worthwhile.
Since early 2019, I have been intensively dedicated to understanding anxiety in students, learning through direct experience and information research. From the experience of having encountered and helped students with academic anxiety, it is my responsibility to be alert to detect signs that I would now recognise, and keep helping students to mitigate their anxiety. You may read more about mentorship in this article. Regarding artificial intelligence, It is worth noting that AI cannot replace human tutoring and mentoring, because it lacks genuine understanding, abstract reasoning, and emotional perception.

The testimonials I include in these pages are relevant because they express how important it is to students and parents that progress in education is achieved,  by assimilating new knowledge, problem-solving and study/revision skills, and exam techniques. This is largely possible through hard work and dedication.
School entrance success stories include having prepared a boy and four girls for Westminster School's 13+ and 16+ exams, of whom two were selected for the Queen's Scholarship (2017, 2022) and three gained admission to the Sixth Form (2015, 2017, 2022).
Prof. B. Lenon CBE, Chairman of the Independent Schools Council (ISC) acknowledged that the relationship between exam results and success in life is "not as strong as people once thought".
Prof. Lenon added: "with the growing number of problems with pupil mental health, if you ask parents what they want most for their children, the first thing they will say is not results. It's that the children are happy, make good friends, are safe and secure", whilst considering that happiness and education are not destinations but journeys.
"I learn more physics in one hour with you, than I learn in one year at school." (IGCSE and Pre-U Maths and Physics online student, Winchester College, UK, 2015-2019)
"We are thrilled, the progress in Maths 3 may have been the deal breaker for the Queen's Scholarship! I'll call you when I stop crying." (Mother of 13+ QS Maths and Physics online student, UK, 2017)
"We are extremely grateful for your dedication as a tutor, for the high-quality lessons you have always delivered, for all the students' lives you have enhanced through your work and for your many years of service." (2019)
Will Orr-Ewing, Founder and Director

"We feel you're an invaluable tutor for us to represent and we hope that will remain the case for a long time." (2019)
Josh Pull, Director

"Online tutor supremo." (2016)
Ed Richardson, Director of Education

Keystone Tutors, London (2012-2019)

"We really cannot thank you enough for your care and contributions to our child's academic and mental well-being." (parents of A-level Maths and Physics online student, UK, 2019)
"I want to thank you for everything you did for me this year, your mentoring and support were crucial for me in so many ways." (Maths online student, TASIS, American School, Switzerland, 2020)
Maths & Physics for 11+ to 16+, CE & Scholarship, I/GCSE, A-Level, Pre-U, IB Program, Uni-PAT, USA-SAT
Problem-solving skills—Thinking skills—Maths functional skills for apprenticeships and employment